This article includes a short video and step by step guide on how to perform an Estate discovery search.
Estate discovery is powered by Experian and allows you to gather asset and liability information on an estate within minutes of entering your case on to Exizent.
💡 Lots of our customers find this a really useful tool to:
Identify information about key assets and liabilities when they or the executors know very little about the estate
Sanity check no assets or liabilities have been missed when gathering information about the estate, particularly as more accounts become digital and there is less of a paper trail
---
Create a case. How do I create a case?
Within Documents & forms in Case documents, upload the Death certificate and the Terms of service
💁 Terms of service is the business agreement with your client which gives you authority to act on their behalf. You may call this something else like Letter of Engagement or Terms of Business.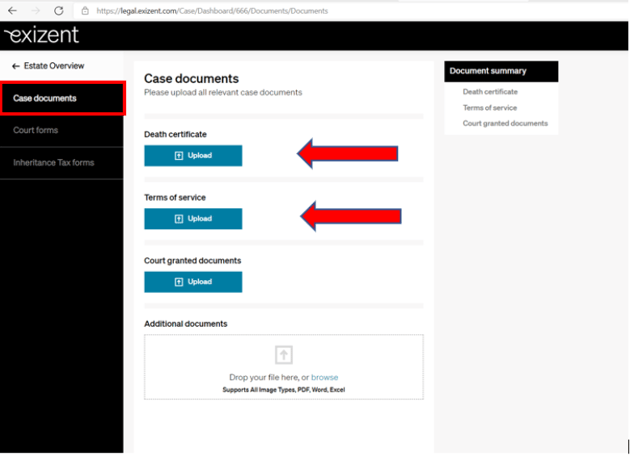 Go back into Estate overview
Click on the deceased's details to update their information:


Enter the deceased's full name, date of birth and address
❗ Please double check the details entered for the deceased. If this information is entered incorrectly, Estate discovery will still run a search and a charge will be incurred but information may not be found.
Click Save
Go back into Estate overview
Choose Estate discovery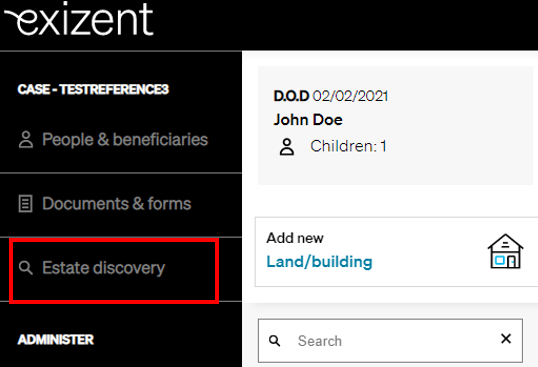 Click to Search now
Click Confirm if you are happy with the charge
A notification confirming if the search has been successful will appear, click Close. If Experian experiences downtime and is unable to connect to the search function you will not be charged
The Experian report is now saved to your search results, click Download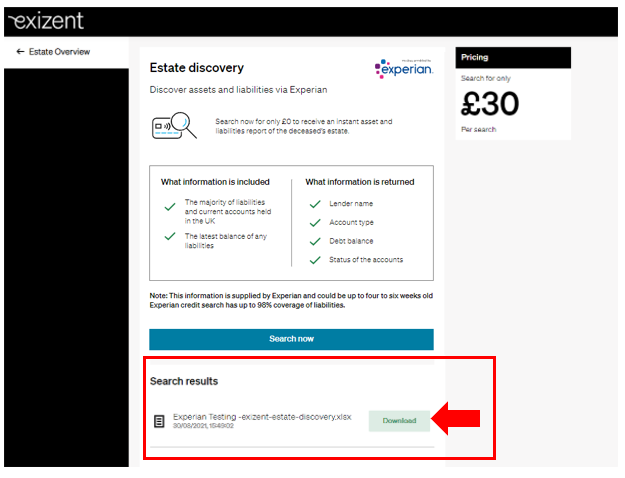 Once downloaded you can open the document and view the search results in an Excel format to allow easy and unrestricted data sorting and analysis
❗ In order to have access to Experian Estate discovery we need to provide evidence to Experian that your company is properly regulated. To do this, we may need to complete some further Know your Business (KYB) checks during the onboarding process with Exizent.
💡 To view the search results again at any point, simply click the download button and open the file, if you click 'Search now' on the same case again for any reason, this will be charged
💡 Experian will bring back the majority of UK current accounts if the account was set up with permission to share data with credit reference agencies
💡 Experian will only return a balance if it is provided to them from the supplier company and the balance is in debit
💡 If a settlement date appears on your search results, this means the account has been settled e.g. if a mortgage is included in the results and it appears with a settlement date, you know this has now been paid
👷 Our team are regularly making improvements and adding new features. Some things may have changed since this guide was written as functionality gets even more fabulous. If you need further assistance, please contact the Customer Success team who are always happy to help.
☎️ call us on 020 8152 2902
✉️ email our Customer Success Team on support@legal.exizent.com