In this article, we will show you how to upload documents to your case.
There are 2 ways of storing documents in your case: in the Case documents tab or in the Documents tab of the corresponding asset.
💡 We recommend using the Case documents tab to store important high level case documents like the death certificate or the will. It means documents are consistently stored and organised and everyone in your company knows exactly where those types of documents are stored in each case
💡 We recommend using the Documents tab within each asset to store key documents pertaining to that asset specifically. This keeps the Case documents tab tidy and users can quickly search for the specific asset they are dealing with to find the relevant documents they need
Once logged in you will be taken to

Your overview,

click the case you wish to add documents to

You will be taken to the Case documents section
From here you can upload three key documents: Death certificate, Terms of service and Court granted documents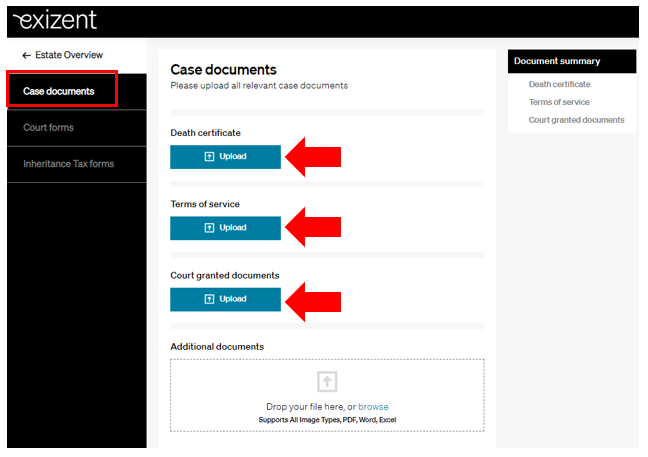 Use the Additional documents section to upload any other useful case documents
You can use the view, delete and upload buttons to easily manage document storage in your case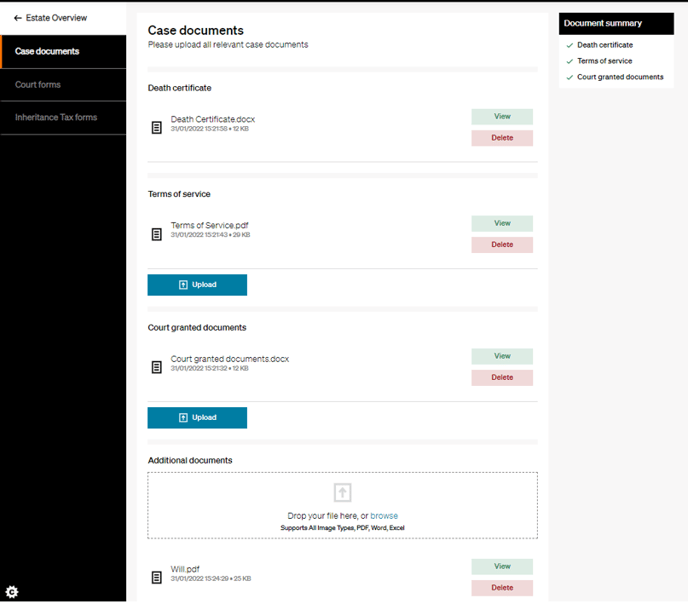 👍Terms of service is the business agreement with your client which gives you authority to act on their behalf. You may call this something else like Letter of Engagement or Terms of Business
💁 If you would like to upload the Will to your Case documents, you can upload this in the Additional documents section
💡 In order to run an Estate discovery search powered by Experian, you will need to upload the Death certificate and the Terms of service documents to your case - How do I run an Estate discovery search
You can also upload documents relating to specific assets to the asset itself in the Documents tab of the asset tile:
In the Estate overview for your case, click on the asset tile the document relates to
Go to the Documents tab
Click Browse to search for the file you want to upload or alternatively drag and drop the file from another location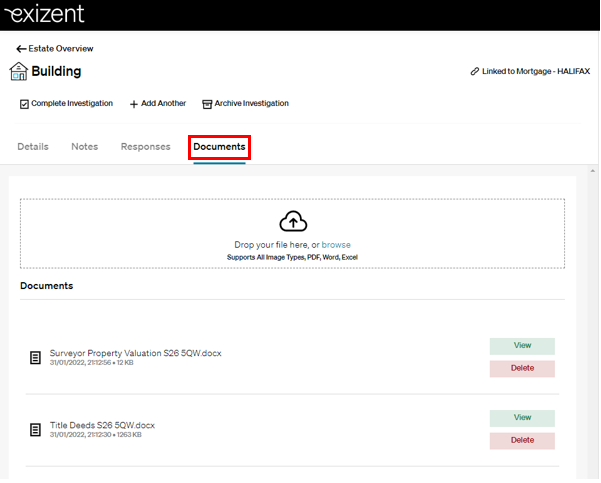 💡 In the video here, you can see uploading documents to assets and liabilities in action
👷 Our team are regularly making improvements and adding new features. Some things may have changed since this guide was written as functionality gets even more fabulous. If you need further assistance, please contact the Customer Success team who are always happy to help.
☎️ call us on 020 8152 2902
✉️ email our Customer Success Team on support@legal.exizent.com