In this article we share some handy hints and tips on how to add assets to your case in a short video and step by step guide.
💁 This short video is full of juicy hints and tips but if you're in a hurry, please skip to the parts you need:
⭐ Start - How to add assets/liabilities, what the fields and questions mean and how to organise and store documents against them
⭐ 2:25 - How to obtain estimated vehicle and building valuations through our inbuilt search tools
⭐ 3:40 - How to add different types of savings and investments or debts
⭐ 4:15 - How to link liabilities to corresponding assets
⭐ 5:00 - How to add miscellaneous or jointly owned assets
⭐ 5:30 - How to organise the Estate overview and view or search for particular items
⭐ 5:30 - How to export a list of all assets and liabilities to a handy summary in Excel
---
Please see an example of how to add a Land/building asset in our step by step guide:
To start adding assets to your case, click on the relevant asset in the ribbon that runs right across your

Estate overview.

In this example I'll click to add a

Land/building

asset:

Once opened, add the details you know to the fields within the asset and click Save
Use the Add another option to add another item for that asset type
Store any useful information about the assets in the Notes and Documents tabs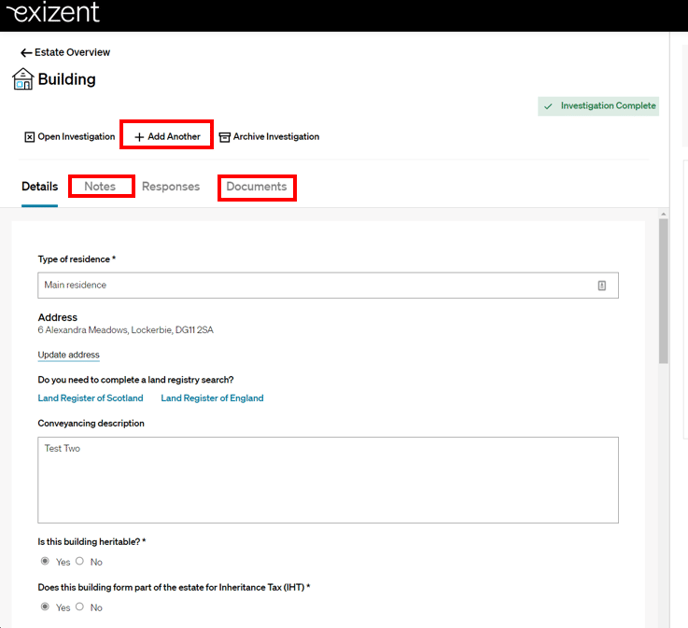 The asset(s) you have added will be shown as tiles on the Estate overview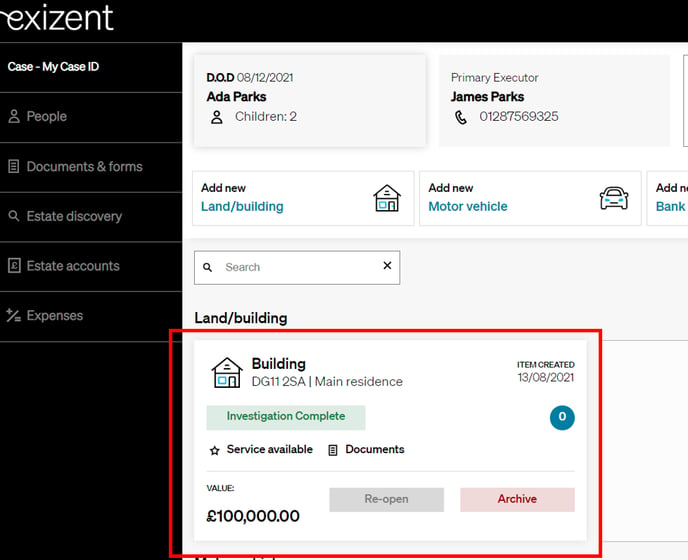 💡 Each asset tile is tailored to capture relevant information about each different asset type
💡 Debts/liabilities like council tax or utility bills can be logged under Debts > Miscellaneous debt
💡 Any assets that don't fall into a specific category can be logged under Miscellaneous items
💡 Find out how to add overseas assets here
👷 Our team are regularly making improvements and adding new features. Some things may have changed since this guide was written as functionality gets even more fabulous. If you need further assistance, please contact the Customer Success team who are always happy to help.
☎️ call us on 020 8152 2902
✉️ email our Customer Success Team on support@legal.exizent.com